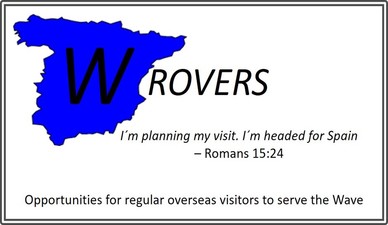 WROVERS: PRELIMINARY VISION
​
The WAVE has a number of visitors from overseas who regularly return to the Puerto Banus Christian Centre because they value the opportunity to be a part of the worship, teaching and ministry it provides. These people don't presume that they can take this opportunity for granted and are therefore looking for channels by which they can serve the Wave, both remotely from home or abroad in their absence, as well as when they are in Spain.


PRINCIPLES

WROVER members have their first home and residency outside of Spain.
WROVERS is a self-resourcing association of friends of the WAVE who intend not to be a burden to the WAVE administratively, time-wise, technically nor financially. Whatever WROVERS creates, in order to serve and benefit the church, should not require very much time or effort by the WAVE Oversight Team.
WROVERS accept a commitment:-

1. To the Vision and Values of the WAVE Church
2. To the principles of the WROVERS concept
3. To pray regularly for the WAVE Church community and family
4. To make available their talents, gifts and abilities to care for, and serve the church
5. To financially support the church and its mission

Membership of the group provides WROVERS with the opportunity to alert the WAVE Oversight team, and other WROVERS,
- of their impending arrival in Spain
- of their availability to serve on particular Sundays, on Wednesdays or at other WAVE events
- of the availability of their gifts and abilities for a set period of their visit
- even simple acts of service e.g.-
- bringing refreshments along to the church service
- being on the Sunday welcome team
- helping to set out the church
- to blog together on issues that are important to the Oversight of the WAVE

WROVERS operates as a closed social networking group for pragmatic and confidential reasons only – not in order to belong to a privileged minority. Its database would be subject to UK Data Protection legislation.

WROVERS will not abuse their membership of the group to pursue their personal or business benefit nor their doctrinal agendas.

If this is for you then please email Neil Grady, the Chair of the WROVERS at: wrovers.wave@gmail.com and let him know how you would like to participate and the dates you will be in Spain.
---
---
---